Wedge-Ease Product Features
Learn more about the features of our line of ergonomic support products.
---
Non-slip base
Soft, durable vinyl
Easy to clean with mild detergents
Highly resilient, soft foam core
Meets ISO 14644 Cleanroom Standards
Nine different sizes meet most users' needs
Designed to take up minimal worksurface space
Regular Stacker and Mini Stacker make excellent edge pad
Mini-Stacker is also an ideal elbow cushion
Products can be stacked for additional height
Eliminates contact stress
May reduce the risk of RSI due to awkward postures
High level of user satisfaction
---
How to select your Wedge-Ease:
Wedge-Ease Ergonomic Forearm Supports come in a number of different sizes and configurations. Review the pictures and instructions below to determine the best products for you.
Once you've determined that your microscope is at the correct height so that you're sitting with your back supported and your head is level over your shoulders with your chin level, you're ready to select which Wedge-Ease will work best for you.
Measure the distance from the top of the worksurface to the middle of the knob (where you will be holding it)
Measure the width of your wrist from the thumb side to the pinky finger side. Subtract this measurement from the first measurement.
For example:
The distance from the top of the worksurface to the middle of the knob is 5 inches. Your wrist is approximately 2 inches wide. 5 minus 2 equals 3
You would use a 3 inch Wedge
If you need more height, you can combine products. For example, a 1-inch Stacker and a 3-inch Wedge for a height of 4-inches.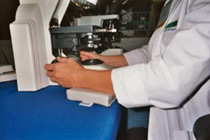 If you need more surface area try the ESD Oversized Stacker. At 1-inch high, 6-inches wide in the front, 9-inches wide in the back and a 10-inch length, you can cover a much bigger workspace.
What If your Microscope has Knob Extenders?
The 1-inch Stacker is ideal for achieving maximum comfort with ergonomic microscopes! It assures that your wrists are in a neutral position while providing a soft cushion that eliminates any potential contact with the hard worksurface edge.
Are your elbows sore from resting on the hard worksurface? Use the Mini-Stacker for a comfortable cushion!
---